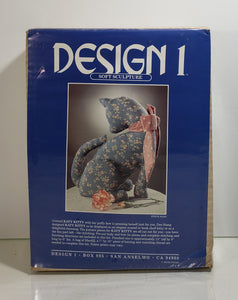 NEW

  Genteel KATY KITTY with her puffy bow is preening herself just for you. Dee Stang designed KATY KITTY to be displayed as an elegant mantel or book shelf or as a delightful doorstop. The pattern pieces for KATY KITTY are all cut out for you--you have the fun part left--the stitching. Pre-cut body and bow tie pieces and complete stitching and finishing directions are included in this kit. Finished size is approximately 13" tall by 9" long by 6" fat. a bag of fiberfill, a 7" by 16" piece of batting and matching thread are needed to complete this kit. Fabric prints may vary.
Brand: Design 1

Model: A265

Year: 1988

Shipping Weight:   2 lb

Shipping Dimensions:  12" x 10" x 4"

The Design 1 Soft Sculpture "Katy Kitty" Kit - Factory Sealed - 1988, Blue Chintz is evocative, to say the least, but that's why you're drawn to it in the first place.

Inventory Last Updated: Dec 09, 2023