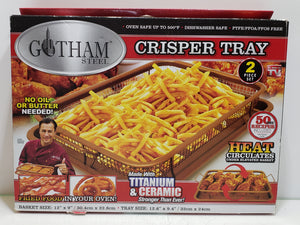 NEW

CRISPER TRAY – the Gotham Steel 2 piece crisper tray and basket is the revolutionary air frying tray that you can use in your oven. The raised basket allows for the convection heat to reach every angle of the food and gives you the perfect crisp, without all the calories, every time! "Fry" French fries, tater tots, mozzarella sticks and so much more
GOTHAM STEEL COOKWARE - with over 30 million happy customers, Gotham Steel has revolutionized kitchens across the world with the introduction of the nonstick ceramic copper cookware! New for 2021, our frying pans have improved in every area including the nonstick coating, stay cool handles, exterior finish and durability, including infusing diamond-like particles to the surface to ensure the pan doesn't scratch! Enjoy and welcome to the Gotham Steel family.
ULTIMATE CERAMIC NONSTICK – the Gotham Steel nonstick cooking surface is coated three times and then reinforced with diamonds to deliver the ultimate food release. No seasoning or even oil or butter needed, makes for healthier eating, and provides for hassle free, 1-2-3 cleanup.
HEALTHY & NON-TOXIC – the Gotham Steel Ti-Cerama coating is free of PFOA, PFOS, lead & cadmium for a healthy and safe experience day in and out.

EFFORTLESS CLEANUP, DISHWASHER SAFE– spend less time with cleanup! After all the cooking and prepping is done, place in the dishwasher for quick and easy cleanup.

OVEN SAFE - compatible with all ovens and can handle up to 500 degrees

EVEN HEAT DISTRIBUTION – the aluminum composition and mesh basket ensures the convection heat reaches all areas of the food and provides great results.
Brand:

Gotham Steel



Model: 1421FE

Year: 2016

Shipping Weight:   2 lb

Shipping Dimensions:  14" x 10" x 3"

The Gotham Steel Nonstick Copper Crisper Tray destined to impress, and priced at only $22.99, for a limited time.

Inventory Last Updated: Dec 03, 2023