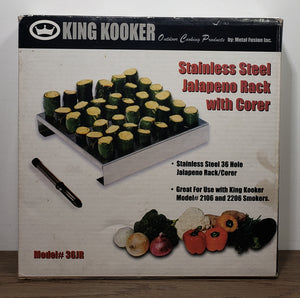 New

  Jalapeno Rack with Corer - 36 Hole - Spicy stuffed and roasted jalapenos are a perfect treat for your guests! Cook 36 peppers at once in our sturdy King Cooker? 36 hole stainless steel jalapeno rack with corer tool. Great for use in the smoker, on the grill or in the oven. Includes Instruction/Recipe Sheet.
Brand: King Kooker

Model: 36JR

Shipping Weight:  2 lb

Shipping Dimensions:  10" x 10" x 2"

The King Kooker 36JR Stainless-Steel 36-Hole Jalapeno Rack with Corer is a sensational customer favorite, and we hope you like it just as much.

Inventory Last Updated: Nov 29, 2023