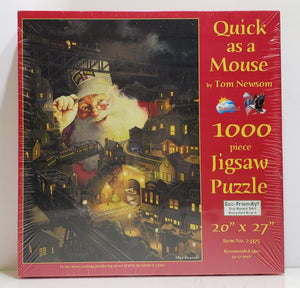 New

 Artist: Ted Newsome
The day after Christmas is free of obligation for St. Nicholas, and his ideal way to relax and amuse himself is with his giant model train set in the wide open North Pole. Apparently a mouse has taken up residence, and Santa isn't bothered a bit. Just look before crossing the tracks!
Brand: Sunsout

Model: 23375

Year: unknown

Shipping Weight:  2 lb

Shipping Dimensions:  13" x 13" x 2"

The Quick Like a Mouse - 1000pc Jigsaw Puzzle by Sunsout is a sensational customer favorite, and we hope you like it just as much.

Inventory Last Updated: Dec 09, 2023