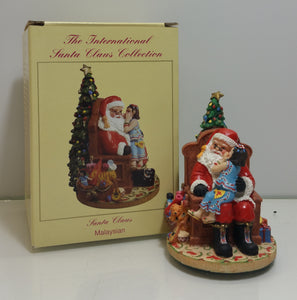 Pre-owned   Like new
 In 1822, from the talented mind of Professor Clement Clark Moore, came one of the most popular poems ever created, "A Visit From Saint Nicholas". And thus the Legend of St. Nicholas, spanning more than 1,700 years through every country in Europe, continued to flourish in the United Stated. Starting with Nicholas, the Turkish patron saint of children, who gave away bags of gold coins stuffed into stockings and shoes, through Russia, Holland and into England, Nicholas has evolved from many different appearances and an equally large number of names. Throughout history he has always provided a spirit of friendship and love, good feelings and compassion for children everywhere. Perhaps this spirit was best expressed in the closing line of Professor Moore's famous poem: "
Happy Christmas to all and to all a good night
"
Brand: International Santa Claus

Model: SC78

Shipping Weight:   1 lb

Shipping Dimensions:    6" x  5" x  4"
The International Santa Claus Collection: Santa Claus Figurine Malaysian is the yin, to your yang. You've found what you're looking for.

Inventory Last Updated: Dec 06, 2023